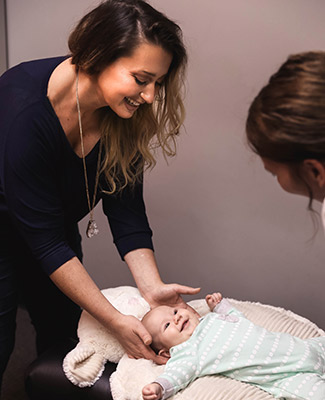 Awarded Pediatric Chiropractor in Savage
At Clearwater Chiropractic, we are family focused. We feel that there is nothing more important than caring for our next generation.
One of the most traumatic experiences a person will endure in their life is the modern birth process. Pregnancy is a safe and natural process, however, today it is often looked at as a "medical condition". Difficulties during the birth process typically arise if mom is functioning at less than 100%. Keep in mind that a woman's body is designed perfectly for this process.
Dr. Kristin, awarded Pediatric Chiropractor, feels that it is extremely important that all children be checked for subluxations as soon as possible after birth. A subluxation is a misalignment or lack of motion within the spine that results in stress and ill health in the body. Chiropractors are the only ones trained to detect and remove these subluxations, and doing so will help to ensure that ill health does not follow for your newborn.
Optimizing Children's Health
As children continue to grow and develop, they learn to walk, crawl, play and become involved in sports. As a result, their spines undergo many forms of trauma. It has been said that if an adult endured as many falls as a child does in one day, the adult would end up hospitalized. That is a big concern for us here at Clearwater Chiropractic, because many of these simple traumas happen again and again and commonly result in subluxations.
Dr. Kristin focuses extensively on removing subluxations in the spine, optimizing health and vitality in the nervous system to allow for the best chance at life possible in our children. She provides parents with all the information they need concerning health and wellness, helping children with everything from nutrition, exercise, ADHD, Autism,  Asthma, Colic, Learning Disorders, Bed-wetting, stress reduction, and posture. Dr. Kristin is a member of the International Chiropractic Pediatric Association ICPA, has specialty training in Chiropractic Pediatrics, Webster Technique, CranioSacral Therapy, is an Epic Pediatrics trained Chiropractor in Savage, MN.
Get Started
Dr. Kristin and the team at Clearwater Chiropractic are committed to providing you and your family with complete wellness and the answers you need! Contact us to schedule your appointment.
CONTACT US

Savage, MN Chiropractor serving the Prior Lake and Burnsville communities